Request for Proposal for Property Management System for Cattaraugus County Land Bank Corp.
Mission:
The mission of the Cattaraugus County Land Bank Corporation (CCLBC) is to restore and build value in the community by returning underutilized properties to dynamic and productive use, preserving and creating quality housing, enhancing the quality of life within neighborhoods, and encouraging private sector investment in cooperation with stakeholders who value responsible land ownership.
The primary objective of the CCLBC is to proactively address distressed properties and intervene in the cycle of blight that threatens otherwise vibrant neighborhoods within the towns, villages, and cities across the County. Acting as a strategic partner with local governments, the CCLBC will accomplish this by:
Lessening the burden on local governments within the County by strategically acquiring, developing, improving, assembling, and selling distressed, vacant, abandoned and/or tax delinquent properties, which will

return improved properties to the tax roll and productive use

increase homeownership and affordable housing opportunities

Combating community deterioration and urban decay caused by vacant, abandoned, tax-delinquent, and tax foreclosed properties by taking remedial action to eliminate the physical, economic, and social causes of such deterioration

Planning and implementing programs, projects and activities designed to create or stimulate economic and community development
Purpose of Request for Proposal:
The Cattaraugus County Land Bank Corp. (CCLBC) requests proposals from an individual or organization that can design and build a web based property management software system on www.CattLandBank.org which is built on a Drupal 8 framework. The Management system will help the CCLBC evaluate properties for strategic acquisition, display them for the public and serve as the central data system to be used by the CCLBC. The system will need to be a single source, web-based property management web software that will aid in the day to day function of the land bank by performing a variety of functions that include operations, analysis, program development, and planning.
Scope of Work:
The scope of work for this project includes design, development, coding of the CCLBC Web Based Property Management and Property Listing software. The Cattaraugus County Land Bank is a Drupal 8 website running on PHP 5.6+. The chosen vendor will work alongside the Cattaraugus County Land Bank Property System team which consists of the board members, staff and the Cattaraugus County Webmaster.
View the rough content model online.
The items that this project must include are:
Functionality
Database to track possible properties for acquisitions, acquired properties, properties disposed of.

Property profiles

Web-based forms for data entry and tracking

Document uploading

Photo Uploading

Internal Notes

Custom Report Generation

Integrate local data from approved sources

Data visualization by linking back to the County's current Parcel Viewer

Can easily be managed by CCLBC Staff
Contractor Management
Type of Contractor

Contact information

Active or inactive

Insurance information
Operations
Project Management Profiles for Properties

Database Change Logs

Contractor Activity Tracking

Cost tracking by Parcel and Funding Sources
Public Facing Website
Work with CCLDC to establish rules to which parcels and fields get publish in line with the Land Bank Law.

Property Listing

Inquiries

Submissions

Organizational Accountability

Visually aesthetic and easy to integrate with website
Services Required
Development and implementation of a property management system on CattLandBank.org

Some requirements gathering.

Custom Module Development

Dashboards

Reports

Support and maintenance of the system for 1 Year.
Project Goals
A Property Management System on CattLandBank.org will be used to maintain properties and related information. Some content is not intended for the public and will be restricted by roles.
Phases to be Completed
Discovery / Planning Phase
Currently there is a preliminary build specification document and mock-ups of the system. These will be used by the developer as a base for the program, and will need to be improved upon.
Development & Testing Phase
Development & Testing Cycle
Comment Code & Documentation Phase
A review of the code will occur. Comments in code are required. Contractor will be required to add comments to most of the functions, classes and important pieces.
From Development/Staging to Production
The Contractor will use Features module or manually recreate on Production.
Project Details
This website is hosted on Cattaraugus County maintained servers. You will be developing the site on a development site. Certain content and fields will be restricted through Roles & Permissions. Tracking of revisions are a must.
The summary of the system:
Code
Drupal 8 API
PHP Annotations allow for plugin discovery in Drupal 8
Comment the Code
Properties
Existing data could be pulled from Cattaraugus County's Imate System (not required)
Photos & images using the Media module.
Basic Customer Relationship System (CRM)
There are many fields in the system that will store contacts and organizational entities. These show how different parties are involved in a property.
Examples of these fields are:
Property Owner(s)

Contractor(s)

Property Manager(s)

Task Assigned to

Project Lead
Some possible building blocks for this would be to use either RedHen CRM components, CoreCRM components or use content/entity types.
The contractor will be required to build a Dashboard for the project management system that can be used by board members and other team members to view Contacts and Organizations which could be created through the Views and Panels module. Access to this content would be restricted by role. The estimated fields will be: 61
Notes
Notes can reference multiple entities.
Access to this content would be restricted by role.
Estimated fields: 3
Public Documents & Images
Public documents that may reference multiple entities (property)
Public images are shown in a carousel
Module(s) to use: Media
Private Documents & Images
Private documents and images may reference multiple entities (property, organization, contact, task) will need to be uploaded and attached to properties. Internal documents like invoices, packing slips and other internal documents as images, photos from inspections and photos of documents will be uploaded.
Module(s) to use: Media
Access to this content would be restricted by role.
Programs
Classify properties under a program.
Access to this content may be restricted by role.
Projects & Tasks
This is the section in which we'll be managing projects & tasks for properties. They're assigned to staff and contractors and help us to track costs of estimated and actual. Private Documents & Images would be referenced here.
Access to this content would be restricted by role
Reminders: Reminder Message and Date / Time to notify
Estimated fields for Project: 16
Estimated fields for Tasks: 8
Module(s) to use: Messaging, Rules
Applications
Contractor will build a "block" on any Property page that would have a link to an Application Webform. This webform will be used for the visitors to submit an interest form to the land bank staff.
Part of the cclandbank Custom Module will be used to generate blocks with dynamic link to webform.
Module(s) to use: Webform
Information to be provided to the CCLBC shall include:
The specialized experience and technical competence of the firm or person with respect to design and creation of property management software.

Provide estimated timeline for completion of the project.

The past record of performance of the firm or person with respect to such factors as accessibility to clients, ability to meet deadlines, communication and coordination of skills.

Examples of the firm or individuals accomplishments in this field.

Plan to perform each phase of the project including a complete testing process on the web based software and database in order to ensure functionality.

The capability of carrying out all aspects of required activities

References from previous clients of related work within the past 5 years.

All Proposals must include proposed costs to complete the tasks described in the project scope and timeline required to complete the project.

The Contractor will be required to agree to a communication schedule which will be required and needs to be included as part of your proposal.
Milestone Payment Schedule and Project Timeline
The Cattaraugus County Land Bank Corporation will not accept proposals over $15,000.
1) Project Initiation and Planning Timeline to complete Cost for Completion
2) Site / Database Development Timeline to complete Cost for Completion
3) Site / Database Testing Timeline to Complete Cost for Completion
4) Site / Database yearly updates and or maintenance Hourly Rate
Proposals
All proposals will be received at the Cattaraugus County Center, Cattaraugus County Department of Economic Development, Planning and Tourism, 303 Court Street, Little Valley, NY 14755, or by email at kate@cattlandbank.org by 4:00 pm June 19, 2017. Should you have any questions regarding the RFP, please contact Kate O'Stricker 716-938-2320 or by email at kate@cattlandbank.org during normal working hours.
All proposals received after 4:00pm on June 19, 2017 will be rejected.
No faxed proposals will be accepted.
Notice to Bidders / Respondents:
The CCLBC reserves the right to request any additional information, which might be deemed necessary after the submission of a proposal. The CCLBC has the right to reject all proposals and/or parts of proposals as deemed necessary in the best interest of the County. The CCLBC will not be liable for any cost incurred in the preparation of any proposal.
The submission of a proposal shall be evidence that the respondent has full knowledge of the scope, nature and quality of work to be performed, or service to be provided, the detailed requirements of the specifications, and the conditions under which the work is to be performed.
The successful contractor must ensure that employees and applicants for employment are not discriminated against because of race, color, religion, sex, handicap, familial status, national origin, gender identity or sexual orientation.
The successful respondent must comply with all applicable federal, state, and local regulations and hold all required licenses for the business that they will be doing with the CCLBC.
Mockups
Visitor Property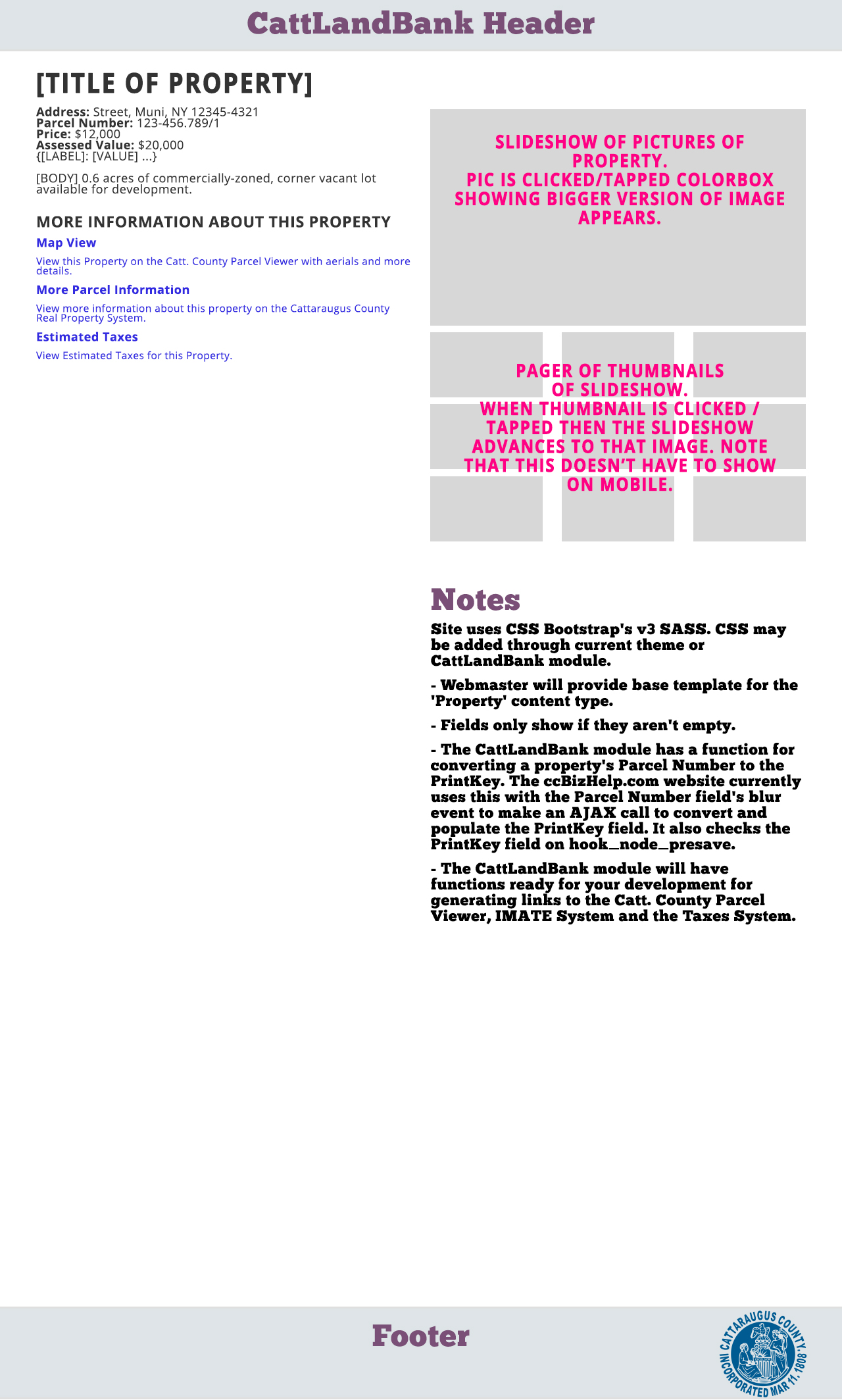 Visitor Property Listing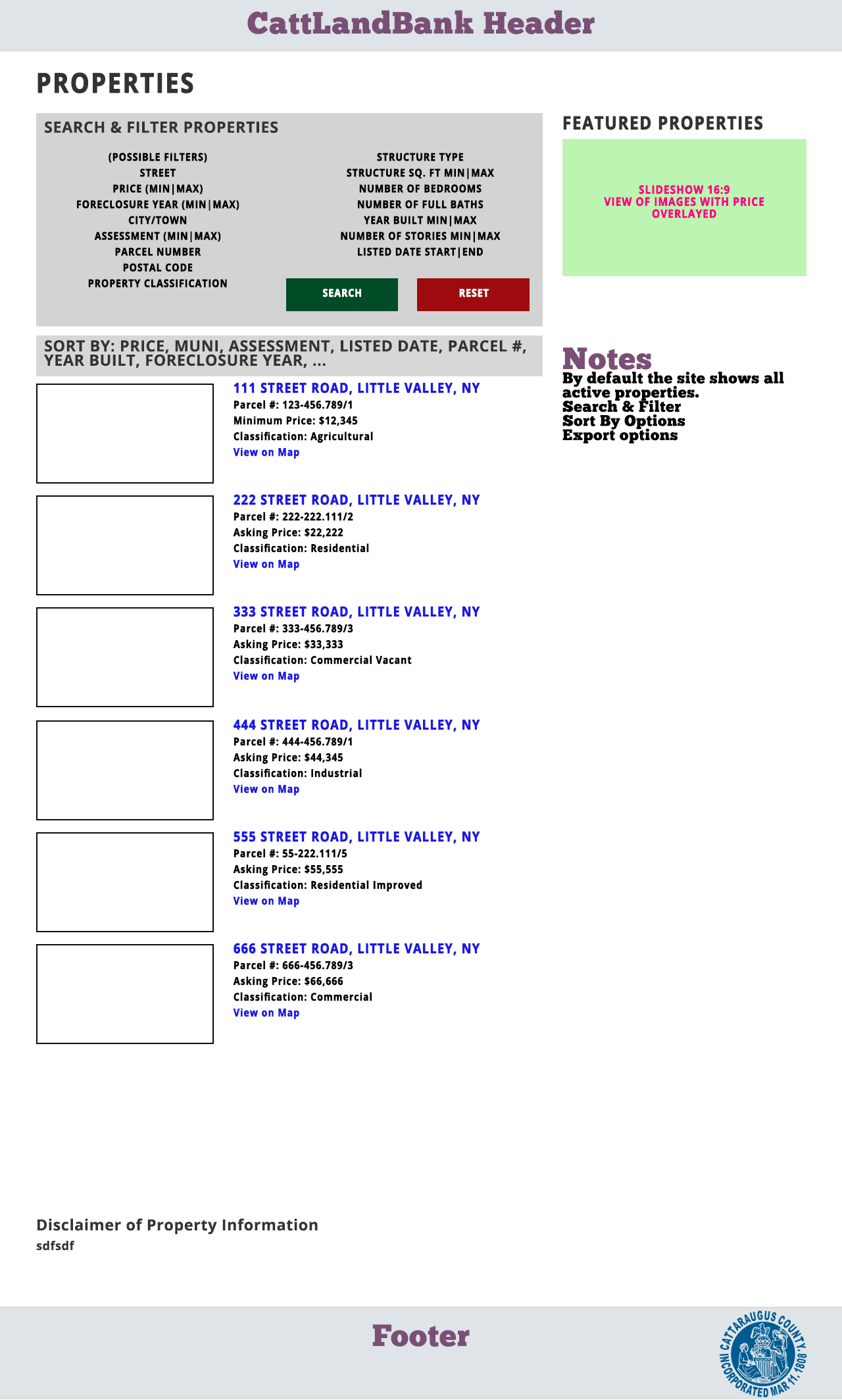 Editor Property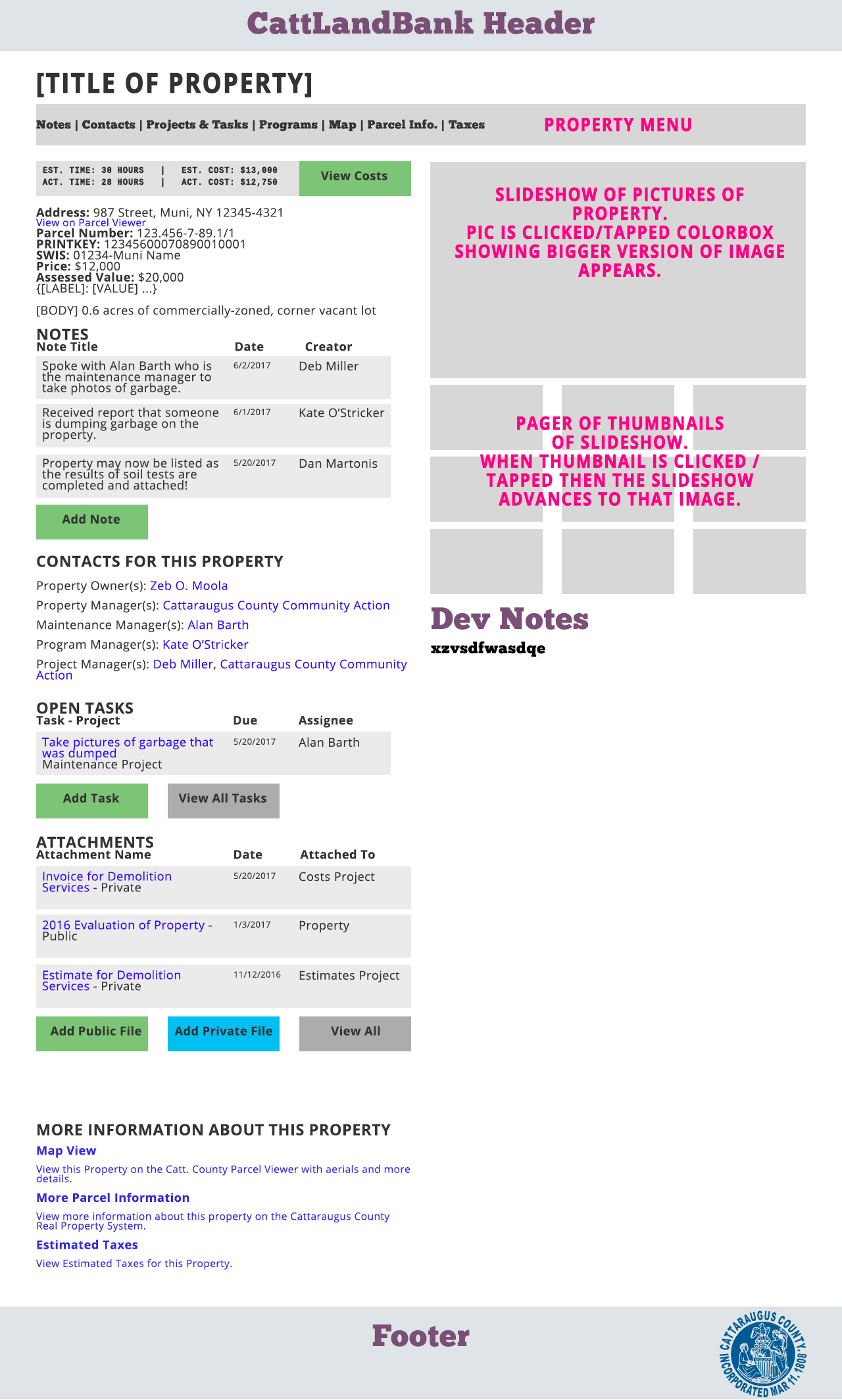 Editor Property Add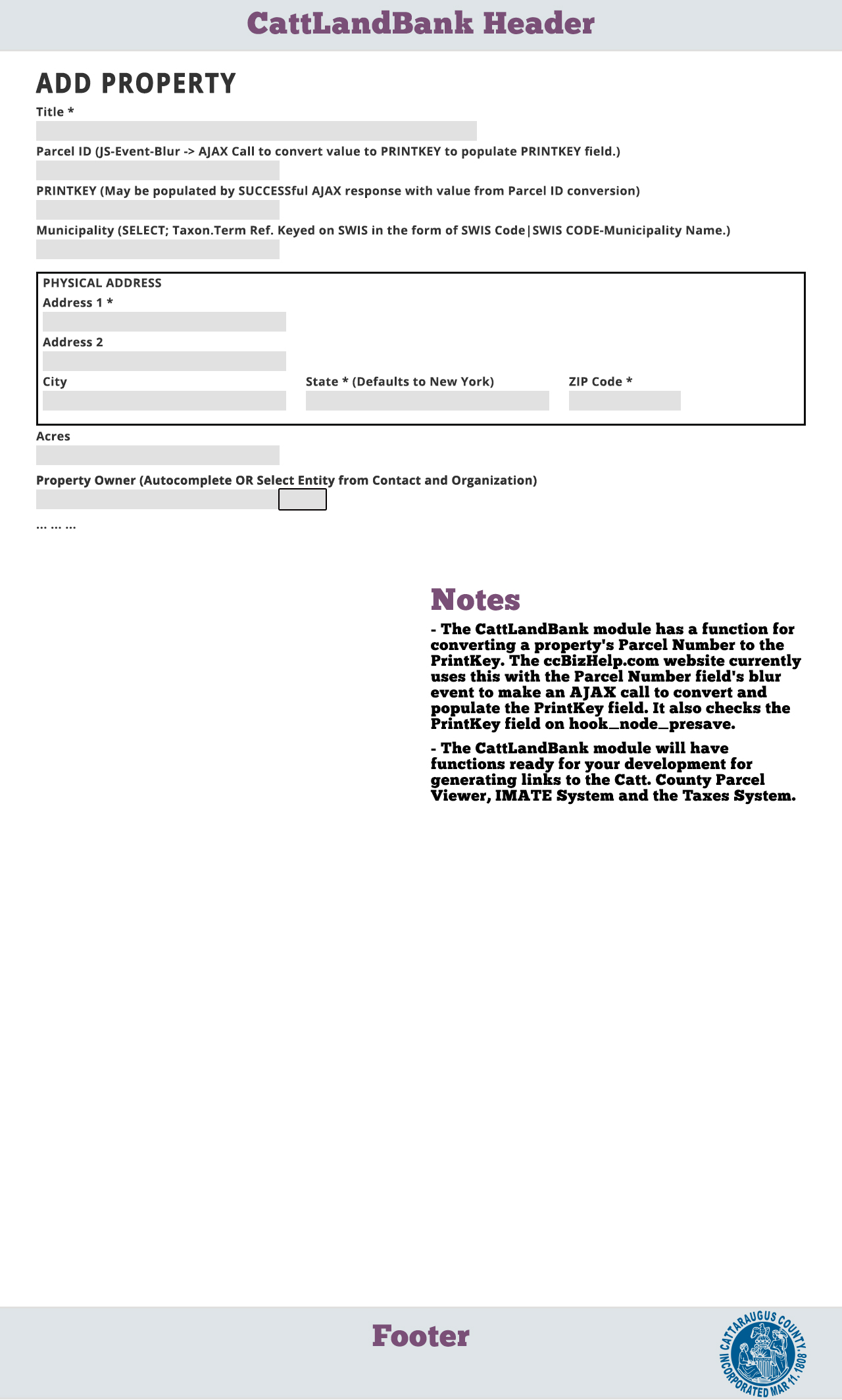 Editor Property Reporting
N/A